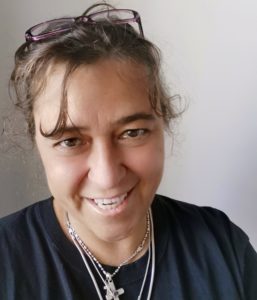 Hello, I am Kate
I am a professional counsellor using Integrative therapeutic approach with a diploma in therapeutic counselling, after studying Psychology at the Open University. 
My basic therapeutic approach is called Person Centred, not only because this was the main focus of my studies but also because I believe that every individual is valued and deserves respect. Above all, however, this conviction is my way of life and an inseparable part of my identity.
One of my strong points is an awareness of diversity in our society.  Since I come from another country, I have had a chance to observe and get to know different cultural mentalities and experience their consequences, and this has enabled me to see things from different angles.
I am fluent in English and Polish, and I also have a basic understanding of Czech language.
I work with broad range of issues including individual crisis, trauma and effects of abuse, as well as depression, anger control, relationship issues and, in the case of children, behavioral issues;
Apart from my qualification and experience, as a person I have a natural ability to deal with people in need or distress. Working with people suffering depression, anxiety and issues around domestic violence has always appealed to me, since I have had direct personal experience of living in an abusive environment myself.
My professional experience also includes working with people from various social back-grounds and of different nationalities with mental health issues, sufferers of abuse or neglect both during childhood and as adults, victims of domestic violence, and working with severe trauma related to sexual abuse, neglect and addiction.
I have been working with children for a few years now, where my work has been based on the whole family approach concerned about the impact of domestic violence against children.